Product Overview
Comparison
Reviews
Manual Guide
FAQ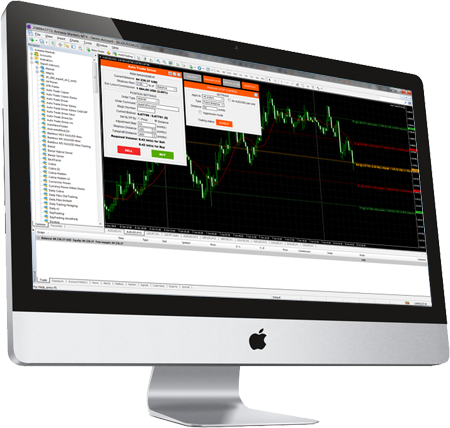 My Money Manager is a trade risk controller, which places your trades with the exact volume that meets your desired stoploss risk. It can also help you to preview your EP/SL/TP levels before placing an order by dragging these levels directly on a chart, and keep reporting about them during the position is opening.
With this tool, you will feel more comfortable when deciding to open orders, as well as forecasting your profit/loss with your orders. Placing orders is a very precise and professional work now.
This tool is the money manager part that splitted from Auto Trade Driver.
| | |
| --- | --- |
| Advanced built-in risk management | One-click-trading panel |
| Drag and preview trade risk before open | Real-time trade risk monitoring |
| No conflict with other EAs | Real-time control panel |
| Auto update new version | Support both MT4 and MT5 platform |
Plans & Pricing
License types
Trial license
Full license
Subscription license
Referral license
Price
Free
49$ / license
12$ / 1 month
24$ / 3 months
36$ / 6 months
Free
Simultaneous accounts per license*
1 account
at the same time
10 accounts
at the same time
10 accounts
at the same time
Referred account(s)
Expiry
7 days after registration
No
After subscription period
No expiry as long as your account is under our referral and account balance is at least 1000$
How to get
Free registration
Purchase by our supported payment methods
Purchase by our supported payment methods
Open live trading account with one of our partner brokers under our referral and deposit at least 1000$
*You can use the product with any account number or on any computer/VPS. But only a maximum total amount of simultaneous accounts is allowed to use the product at the same time.
Compare with our other products
| | | | |
| --- | --- | --- | --- |
| FEATURES | My Money Manager | | |
| Real-time control panel | | | |
| Calculate lotsize base on stoploss risk | | | |
| Place orders by drag-n-drop | | | |
| Preview order's exit point before enter | | | |
| Auto protection with multi-methods | | | |
| Auto trailing stop with multi-methods | | | |
| Auto partial close with 3 levels | | | |
| Ultimate order processing shortcuts | | | |
| Extra order statistic panel | | | |
| Platform supported | MT4 & MT5 | MT4 & MT5 | MT4 & MT5 |
| Usage purpose | Risk management, lotsize calculating, order monitoring | Order control: Protection, trailing-stop, partial close, order processing shortcuts | All of those |
Excellent EA !!! Thank you very much. It works like expert. Opening a position on the market is very professional now with foreseen trade result and real-time updated lotsize calculator. Highly recommended for those who are serious about their money management and statistics.
Alexey (Russia)
This utility is simply brilliant! The genius is in how clean, simple and readily available the panel is. The auto lot calculation (based on risk percentage) and setting TP and SL by pip distance, turns the process of processing orders into a cake walk. Great job, this is a tremendous value!
Gipson (United States)
Does what I need took a bit of time to get it to work on the machine I installed the demo on first, however sorted it out eventually. Support queries were answer promptly. Calculates my lot size based on parameters available such as balance of account. I like it.
Justin Barnes (United Kingdom)
Manual Guide
1. Installation:
Unzip the product's package, you will see the "My Money Manager.ex4" and "My Money Manager.ex5" files.

Go to MT4 or MT5 data folder by opening MT4/MT5 terminal -> Main menu -> Files -> Open Data Folder.

Copy .ex4 or .ex5 file to directory path: /[data folder]/MQL4(5)/Experts/. Go back to MT4/MT5 terminal -> Main Menu -> View -> Navigator -> Right click on Expert Advisors folder -> Refresh -> Find "My Money Manager" -> Double click or drag it the the chart that you want to work with.

At startup window -> Common tab -> Enable "Allow DLL imports" and "Allow live trading" check box.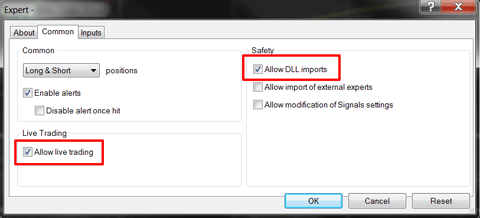 Switch to Input tab, enter your registered email address and activation key in order to activate your license.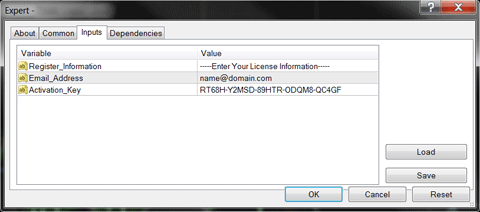 2. Commission setting
Commission setting is used for risk management calculator to determine the exact lotsize that match with your risk. Commission is counted to trade's profit/lose in order to giving the exact result of the trade.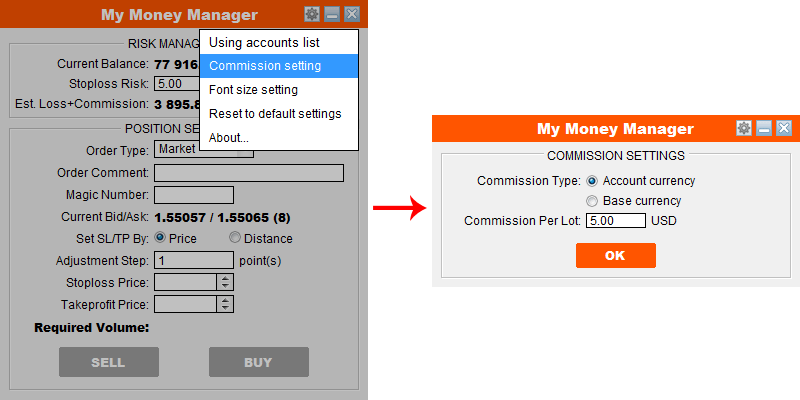 Commission Type: This is how your broker charges commission. It should be "Account currency" if commission is charged on account currency unit, or "Base currency" if commission is charged on base currency of the trading pair.

Commission Per Lot: The amount of currency units that charged as commission for a round turn standard lot. If your broker/account type doesn't charge commission, just leave this value as zero.
3. Risk Management
This feature calculates required volume that meets your accepted stop loss risk. You choose EP and SL with a specified risk percentage of balance that you accept to lose at that stop loss point (including commission), the tool will auto-calculate required volume. Then, you just need one click on the button BUY, SELL, or PLACE ORDER (with pending order), and order will be sent immediately. If you want to calculate and place order with other pairs, just use this tool with those pairs.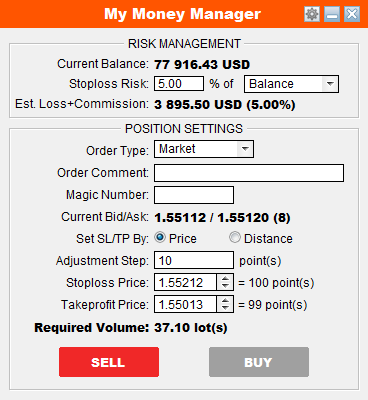 Stoploss Risk: The risk percentage that you accept to lose if stop loss occur.

Est. Loss+Commission: The estimated loss you will incur at stoploss point. This total loss amount includes order's loss and order's commission.

Order Type: Choose the order type that you want to take place.

Order Comment: Note for your order as regular MT4/MT5 order's comment.

Magic Number: Set the magic number to your placed order for further purpose. Magic number is a unique number that you can set to identify your order. If you don't have special purpose, just leave it as blank.

Set SL/TP By: Choose how to set Stoploss/Takeprofit point. It should be "Price" if you want to set SL/TP by a certain price value, or "Distance" if you want to set them by a distance from the entry point.

Adjustment Step: Increase/Decrease space of the price adjustment when using Increase/Decrease arrow button

Stoploss/Takeprofit/Distance: Value to determine the Stop loss/Take profit point. Setting Stop loss point is mandatory to calculate appropriate volume (you may remove Stop loss later if you want, but need to enter a value to calculate volume and place order). Leave Take profit as zero means setting an order without take profit.

Order Dragging feature: When you are setting EP/SL/TP on the control panel, you will also see that there are horizontal lines with corresponding level on the chart. You can select those lines and drag them to adjust order EP/SL/TP. Due to those level, order type will be auto selected.
This is frequently asked questions (FAQ) and our answers relate to features of product My Money Manager (MMM). For other general FAQ, please check at our main FAQ area. If you have further concern, please leave your question at our contact page.