Product Overview
Reviews
Manual Guide
FAQ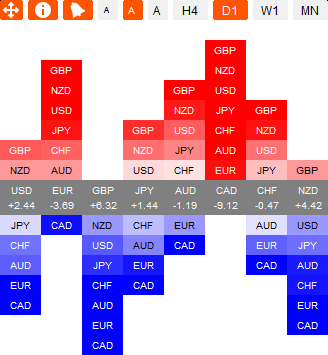 Currency Power Indicator is an indicator that shows the power of major currencies against each other. The indicator present the relative strength of currency/pair at the current moment in a period of time. It is very useful for regardless day traders, swing traders or position traders with suitable period options.
Currency power is the true reason of market trend: The strongest currency against the weakest currency will combine into a most trending pair. As we know, trend makes money and all traders love trend.
Do you know why some trades seem to be a good signal but still fail? The most reason is you only look at individual signal on your favorite pair, but not have an overview on the currency power against all the others, which is better to make decision. So, this indicator shows you which currency is strongest and which is weakest, thus the most trending pair. It also let you know which currency (thus pairs) is neutral and you should avoid to trade.
How it works
Indicator draws a table of major currencies in a center horizontal gray row and other currencies against each of them in the blue-red columns.

Each currency power index is analyzed and summarized from its relative strength against the others. Its value corresponds with it status as follows:

Lower than -5.0: Extreme weak.

From -5.0 to -2.5: Very weak.

From -2.5 to -1.0: Weak.

From -1.0 to +1.0: Neutral.

From +1.0 to +2.5: Strong.

From +2.5 to +5.0: Very strong.

Higher than +5.0: Extreme strong.

If a currency is red: It is stronger than the base currency in selected period.

If a currency is blue: It is weaker than the base currency in selected period.

The higher its position (darker red), the stronger it is.

The lower its position (darker blue), the weaker it is.
Main features
| | |
| --- | --- |
| Real-time update the power index | Visual and outstanding graphic design |
| Support all pairs between major currencies | Alert and send signal to email/mobile |
| Auto update new version | Support both MT4 and MT5 platform |
Licenses & Pricing
License types
Trial license
Full license
Subscription license
Referral license
Price
Free
49$ / license
12$ / 1 month
24$ / 3 months
36$ / 6 months
Free
Simultaneous accounts per license*
1 accounts
at the same time
10 accounts
at the same time
10 accounts
at the same time
Referred account(s)
Expiry
7 days after registration
No
After subscription period
No expiry as long as your account is under our referral and account balance is at least 1000$
How to get
Free registration
Purchase by our supported payment methods
Purchase by our supported payment methods
Open live trading account with one of our partner brokers under our referral and deposit at least 1000$
*You can use the product with any account number or on any computer/VPS. But only a maximum total amount of simultaneous accounts is allowed to use the product at the same time.
The best indicator EVER! It's really so accurate! It actually gives a very strong signal in the real time! A real bargain! I wish I found it earlier so I could minimize the losses to the minimum! 🙂 It's really a must have tool in anybody's Forex arsenal!
Kikolos (Poland)
Excellent indicator! I purchased it and made more money than its price after 30 minutes using it. So i got this awesome indicator for "free". Thank you! 🙂
Vinh (Australia)
Very powerful and useful indicator, I tried it for intraday operations and improved my results. Someone said: "every information coming from the PRICE is very powerful". I have some suggestions hope the seller will improve this wonderful indicator. Thank you very much.
Pochito (Peru)
Excellent indicator. Easy to identify weak and strong pairs in real time. A real bargain.
Robert Edison (United State)
Pretty good indicator. I can see right now which one currency up or down and just click the indicator can open trading windows. I want like this indicator for long long time. Thanks a lot!
Haki (Taiwan)
Very good indicator… should not be used alone!
Jose Maria (Portugal)
Very good. Does what it is meant to do. Main direction can be identified easily. Very nice indicator!
Albert (Germany)
Manual Guide
1. Installation:
Unzip the product's package, you will see the "Currency Power Indicator.ex4" and "Currency Power Indicator.ex5" files.

Go to MT4 or MT5 data folder by opening MT4/MT5 terminal -> Main menu -> Files -> Open Data Folder.

Copy .ex4 or .ex5 file to directory path: /[data folder]/MQL4(5)/Indicators/. Go back to MT4/MT5 terminal -> Main Menu -> View -> Navigator -> Right click on Indicators folder -> Refresh -> Find "Currency Power Indicator" -> Double click or drag it the the chart that you want to work with.

At startup window -> Common tab -> Enable "Allow DLL imports" and "Allow live trading" check box.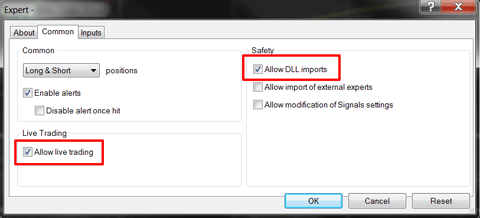 Switch to Input tab, enter your registered email address and activation key in order to activate your license.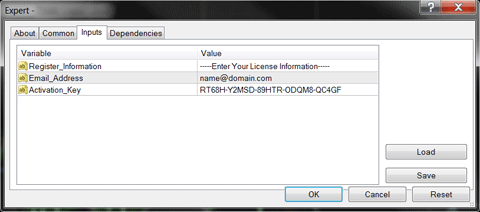 2. Indicator interface: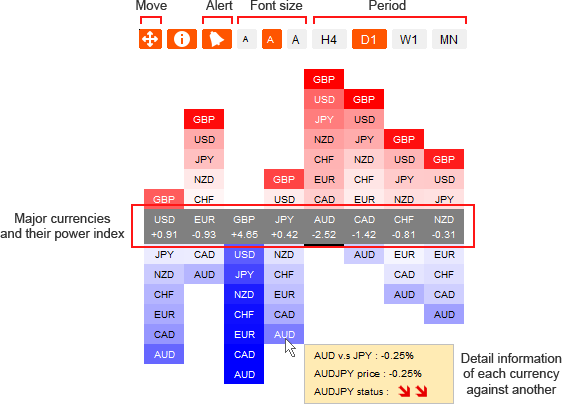 3. Suggested strategy:
Strategy with this indicator is very simple: Look for a strong-side currency and a weak-side currency, so that the difference of power between them is larger than 5. Then trade the pair between them. For example: AUD is -3.8 and USD is +2.5 => 2.5 + 3.8 = 6.3 > 5 (Sell AUDUSD).

Best time to trade (for day trader): London session (Trends are usually start and develop from this session).

Time avoid to trade (for day trader): New York 2nd half-part session (Trends are usually exhaust and may reverse in this half-part session, although there may be still a big difference between the strongest and the weakest, just wait until the next day).

Note: This indicator real-time analyzes the current price of currencies in selected period, so you will see that the power of currencies is usually neutral at the beginning of period (day, week, month). Then, it will diverge over the time; this is the point for you to know when a currency start to volatile in the market.
This is frequently asked questions (FAQ) and our answers relate to features of product Currency Power Indicator (CPI). For other general FAQ, please check at our main FAQ area. If you have further concern, please leave your question at our contact page.