General
Who is AutoFxPro.com?
AutoFxPro.com is a group of traders and developers that have passion in forex trading. We develop softwares to help traders trade better as well as coding service on client's request.
What does AutoFxPro.com provide?
We provide trading softwares and tools that based on MetaTrader4/MetaTrader5 platform. We also provide coding service from individual request or modified verion from our original products.
Does the AutoFxPro member at MQL5 Community represent AutoFxPro.com?
Yes, we also have registered as a member at MQL5 Community under the name AutoFxPro (Vu Trung Kien). Vu Trung Kien is our founder's name.
Products and Services
How many license types of product are provided?
There are 4 license types that be applied for most of our products:

Trial license: You can use the product with full features for free in 7 days trial.
Full license: If you buy the product, you can use it with full features without any limitation.
Subscribed license: If you hire the product, you can use it with full features in the subscribed period.
Referral license: If you open trading account and make a certain deposit with our partner broker under our referral, you can use the product for free with full features on that referred trading account.
Why can I not register trial license for second time?
Each email address and trading account number is allowed to register a product for one time only. Since the trial license has full features, we must limit the registration times in order to avoid repeatly abused usage of trial product.
How the product is delivered after I buy or subscribe it?
After you buy or hire our product, an email will be sent to your email address, which includes details about your license such as activation key and download link.
How can I receive version for MT5?
If the product supports MT5, the downloaded file will be a .zip file that contains both .ex4 and .ex5 files. You will have both MT4 and MT5 version with one license.
How can I install the product on my MT4/MT5 terminal?
Our software is MetaTrader Program File format. It is .ex4 file (for MT4 platform) or .ex5 file (for MT5 platform). To install it, you just need to copy it to appropriate folder in MT4/MT5 data folder. All instruction documents are included in software package.
How to install multiple MT4/MT5 terminals of the same broker on the same PC/VPS?
Just run the setup file (.exe) of MT4/MT5 platform. Then during the installation, choose "Settings" and change the name of installation folder by adding a number after the default folder name.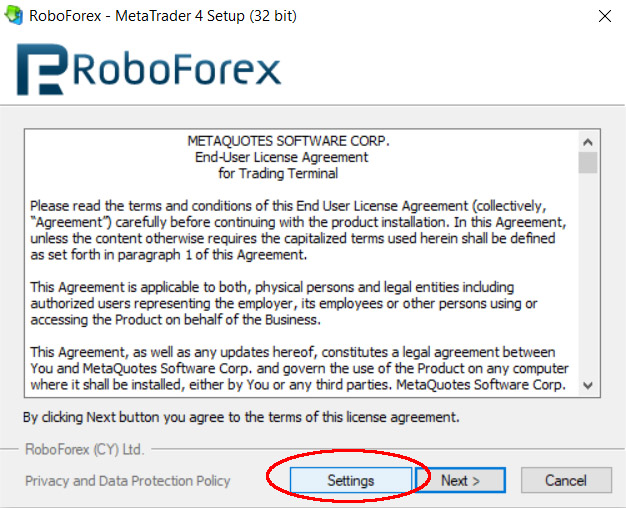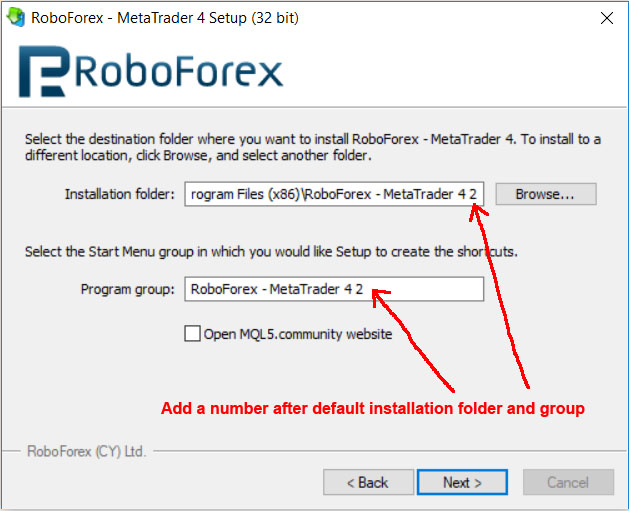 How can I activate my license for the product on my account?
In order to make the product working and activate your license properly, following mandatory configuration must be set in your MT4/MT5 platform:
Go to MT4/MT5 terminal -> Main menu -> Tools -> Options -> Expert Advisors tab-> Enable "Allow DLL imports" and "Allow WebRequest for listed URL", then add "http://register.autofxpro.com" to URL list.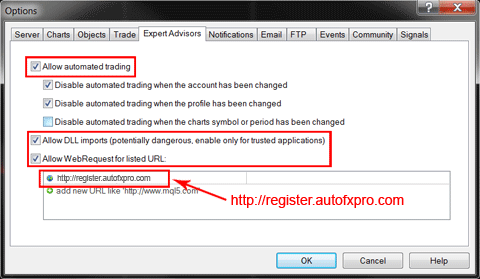 Turn on the "Auto Trading" button on the toolbar.

Attach the product's file to any free chart -> Expert Advisors -> Properties -> Common tab -> Enable check boxes as image below.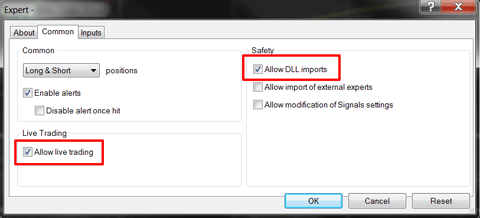 Switch to Input tab -> Enter your registered email address and activation key in order to activate your license.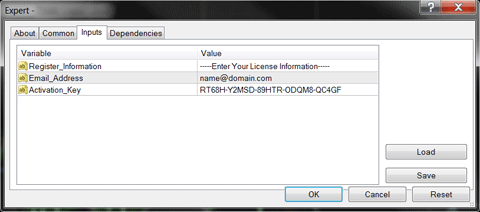 If you have configured it correctly, please make sure that there is a smiley icon at the upper-right corner of the chart, it indicates that the EA is ready to work.

Can I share my product license to another person?
Yes, you can. Each product license allows to use on a quantity of simultaneous accounts regardless its number or name.
How can I know which accounts are using the product with my license?
To show on the list of accounts that using product with your license, click to menu icon of the EA -> Using accounts list -> it will popup an alert notice you about accounts that using the product with your license.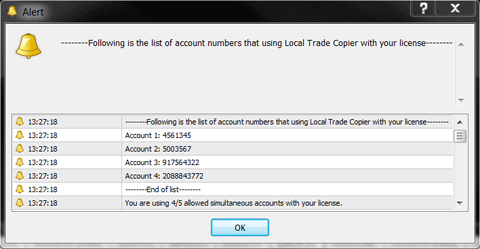 How can I use the product on another account number if the maximum allowed simultaneous accounts exceeded?
In order to use the product on another account number, you must remove it on another using account or purchase more licenses to increase the maximum allowed simultaneous account quantity.
How can I upgrade from subscribed license to full license?
Just purchase it again with the same email address as you registered with subscribed license. Your subscribed license will be removed and replaced by full license.
How can I renew/extend my subscription?
To renew/extend your subscription, just subscribe it again with the same email address as you registered in previous subscription. New subscription will be added up to your existing subscribed period.
For example, your current subscription is from 01/06/2014 to 30/06/2014, you renew your subscription for 1 month on 15/06/2014, then your new subscription will be extended to 30/07/2014.
What kind of service does AutoFxPro.com provide?
We provide solution and coding service. Whether you give us your scratch idea or detail requirement about tools, ultilities, trading systems, etc., we will turn it to reality with best solution. We also provide custom version of our existing products due to your individual needs.
Payment
Which payment methods are accepted?
Currently, we accept 4 payment methods: Paypal, Skrill (Moneybookers), WebMoney and Credit/Debit cards. Those are considered as most secure and popular payment methods nowadays.
Is my payment secure?
Yes, your payment is secure. AutoFxPro.com does not process your payment, it is processed by the 3rd party payment gateway (Paypal, Skrill or WebMoney). Therefore, we don't (and cannot) keep your payment secured details such as password or card information.
After you select payment method, our website will redirected you to appropriate payment gateway. Please check and make sure that there is a green lock icon on the address bar of the browser with https protocol, it indicates that you are in a secure encrypted SSL page.


How can I pay by Credit/Debit cards?
If you want to pay by Credit/Debit card, please choose Paypal logo, it will be redirected to secure encrypted Paypal gateway, then choose "Pay with my credit or debit card" and enter your card information to process the payment. Paypal gateway will process your card's payment.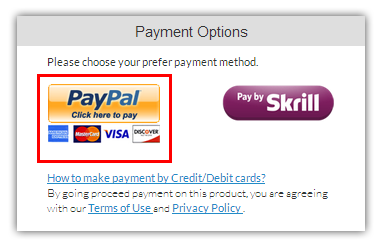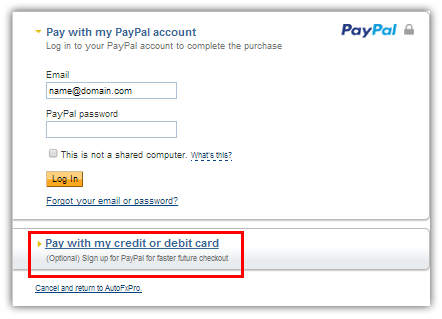 What should I do if there is payment error and I don't receive the product?
In this case, you should check your payment account. If it is debited by our product's cost while you still don't receive product via email (make sure to check your Spam/Junk mails also), please contact us within 7 days via our contact form and give us the payment details. We will check and approve it manually.
Referral license
What is referral license?
Referral license is a license that we free provide for whom open live trading account with one of our partner broker under our introduction.
Why is referral license provided for free?
When you open live trading account under our referral, the broker pays us a commission for this introduction. That means our product cost is compensated by the broker, so you can use it for free.
This model benefits all parties: You can get our product for free, we are still compensated for our product's cost and the broker has new client. We call this "win-win-win" (3 wins) model.
Does the referred account have widen spread or extra commission?
Absolute NOT. The referred account has the same trading conditions as regular account that you can open directly with the broker. There is no any widen spread or extra commission on your account. You can check this with the broker or compare it with other direct accounts.
How can I open account under AutoFxPro.com's referral?
In order that the broker can recognize our referral, you must click on the broker's logo on our website. Then, the system will redirect you to broker's website or registration page with unique code linked to our referral. You must open account using this redirection, don't use other browsers or new tabs to go directly to broker's website, otherwise they can't recognize our referral.
After your account has been approved by the broker, please come back to the product's page on our website, click to "Get it free" button and notice us about your referred account's details. We will check it with the broker and send the product to your email.
What is minimum required balance?
Minimum required balance is the amount of your account balance that need in order to make your referral license be activated. Whenever your balance go under this minimum, your referral license will be inactivated until you add more fund to the account so that it reach the minimum requirement again.
How long will my referral license be expired?
Your referral license will not expiry as long as your account is still under our referral and meet the minimum required account balance.